Trees for Global Benefits
MoMo4C Support (2019 - 2024)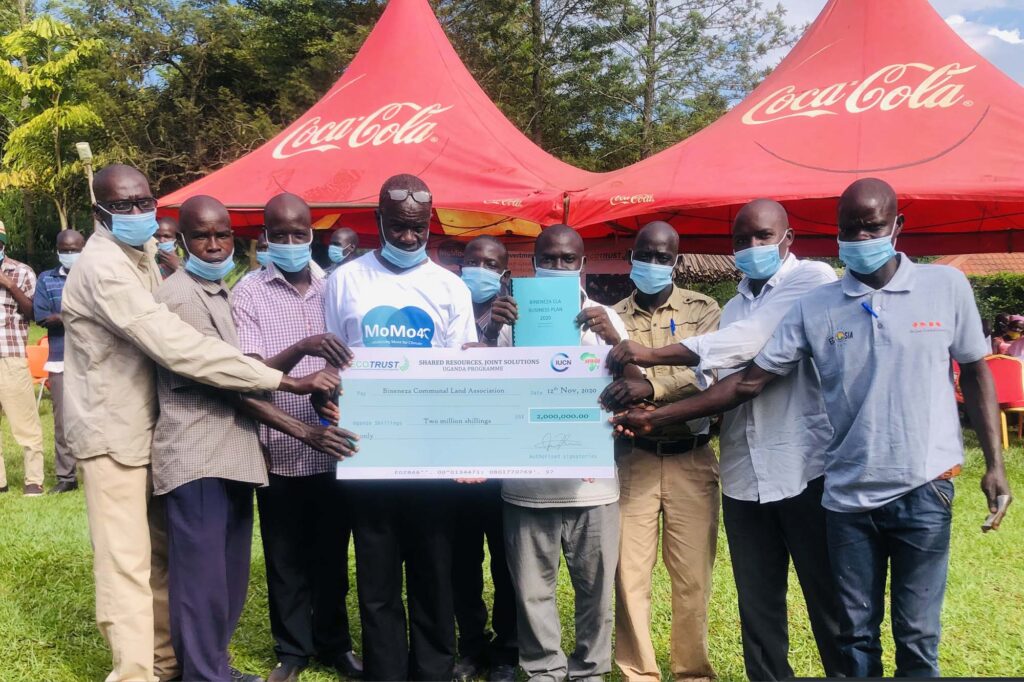 The Mobilizing More for Climate (MoMo4C) Uganda Programme
aims to build a climate resilient Murchison landscape where multiple stakeholders work together to manage the landscape ecosystems and ensure sustainable livelihoods. MoMo4C will do this by developing and supporting viable green business cases that enhance landscape restoration and reforestation while supporting improved livelihoods.
The MoMo4C project in 2020 supported the development of green business cases by the 10 Communal Land Associations (CLAs) within the Murchison landscape. Such business cases will serve as one of the key strategies in promoting Forest Landscape Restoration (FLR) as a business, by materializing the sharing of benefits accrued from improved management of forests by community groups.
Under the SRJS project, ECOTRUST supported the formation, registration and certification of 10 CLAs in Ongo, Tengele, Motokayi, Kaitampisi, Kyamasuka, Bineneza, Siiba, Sonso, Rwentumba and Alimugonza) which are now in the process of finalising their benefit sharing and forest management plans for restoration, protection of community forests; and improving their livelihoods in a sustainable manner.
The management plans are aimed at improving the status quo in these communities and forests while at the same time ensuring that these efforts are sustained. Under MoMo4C all the 10 CLAs have been supported to develop business cases that fit within their current context and structure. The business cases will serve as one of the key strategies to materialise the sharing of benefits accruing from the improved management of forests by the CLA's in line with the notion of Forest Landscape Restoration (FLR) as a business.
MoMo4C in 2020 launched a gendered green investment campaign, within the CLA landscapes to increase the participation of women and youth in improved reforestation management and restoration; as well as, increased green incomes for these two usually marginalized groups.
1
Forest Ownership Titles
10
communities being supported to form associations to acquire ownership titles
193
Hectares of Forest Area covered under communal ownership
2
Wetland Management Associations supported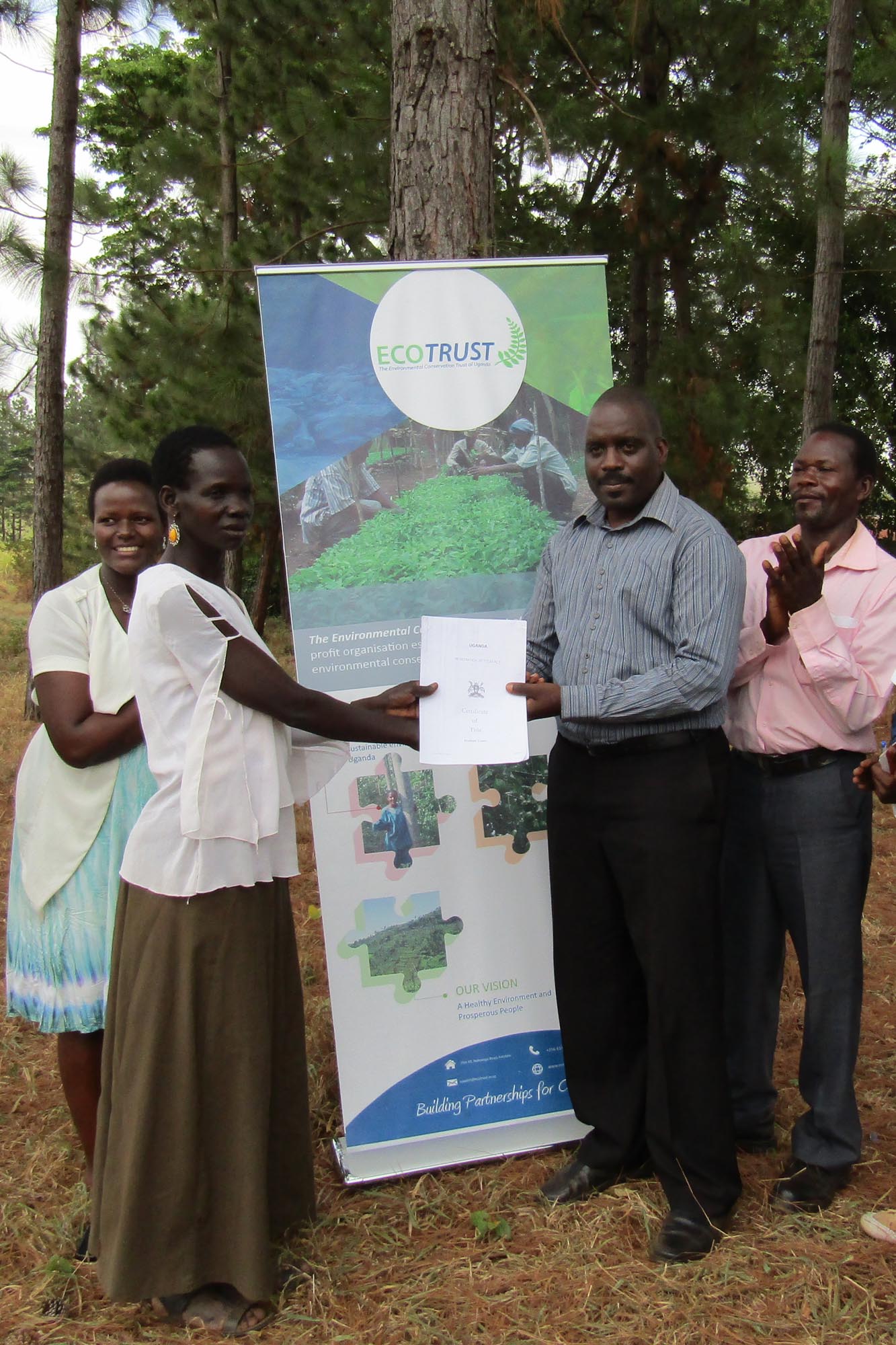 Communal Land Associations
In a bid to maintain connectivity within the Murchison : Semiliki biodiversity corridor, ECOTRUST has since 2007 been working with the local government of Masindi District to use innovative conservation models to promote community led initiatives for Sustainable forest management of community forests.
The tropical high forests of western Uganda support an exceptional diversity of animal and plant species (Plumptre et al., 2007).  Forests were previously contiguous and interconnected, allowing for ecological connectivity and gene flow between the main forest blocks.  However, settlement, expansion of commercial agriculture and industrial development, especially following the discovery of oil in the region, has led to their almost total separation and isolation from each. It is therefore critical that the remaining pockets of private and community forests are maintained and/or increased to enable the continued provision of environmental services.
These innovative models were piloted by ECOTRUST in two community forests i.e. Ongo and Alimugonza forests, which are some of the primary high tropical forests found Masindi District and are outside the Protected Area system. ECOTRUST has mobilized communities and supported them to form communal land associations (CLAs). These CLAs are dully registered legal entities, (with certificates of incorporation) and have been mandated to manage these community forests. 
With initial support from Myclimate, ECOTRUST built the capacity these CLAs, equipping their leaders to manage the forests, resolve conflicts and promote income generating activities amidst challenges from a growing population, high levels of forest encroachment & limited financing.  The CLAs have formed Village Savings and Loans Associations (VSLAs), through which the PES benefits are channeled to the community.
SRJS Support (2017 - 2020) The IUCN NL funded Shared Resources, Jointed Solutions Uganda Programme, working with ECOTRUST, has since 2017 provided resources to support a more streamlined registration process for these CLAs.
The programme, in 2017 supported the titling of six community forests in Masindi district by facilitating situation analyses, demarcation, forest management planning and registration. Ongo community forest became the first forest in Uganda to be granted tenure, by the Ministry of Lands, Housing and Urban Development. This was made possible because the relevant laws and guidelines were already in place.
Between January and December 2019, three other forests namely Sonso, Siiba and Rwentumba finalised the community and district consultations, boundary opening, development of the constitutions and applied for registration.
Since SRJS' involvement in 2017, four more CLAs have been mobilized, bringing the total number of registered forest adjacent CLAs in Masindi to ten. Currently all these CLAs have been issued with both certificates and have revised their forest management plans, precursor to issuance of forest land titles.
The SRJS programme developed a framework for benefit sharing for these forest adjacent communities and trained them in business case development for institutional sustainability. These groups have been instilled a culture of self-reliance rather than over dependency on outside support, equipping them to fully and sustainably manage their forest resources.