ECOTRUST provides a platform, a programme of activities, through which different community – led actions are aggregated to achieve scale in a cost–effective manner that enables US$6 out of every US$10 committed for climate action to reach the intended beneficiary in form of direct cash transfers. ECOTRUST uses a "blended financing approach – Private, Public, Internal Revenue and Community contributions to achieve conservation outcomes.
According to IIED, 2020, there is need to re-imagine both the conservation and climate finance system because only US$1 in every US$10 of climate finance committed is currently reaching local level climate action (IIED, 2017). But evidence from international development bilateral and climate funds that focus on reaching local communities has shown that certain local programmes, like TGB, can deliver a 'triple win' – producing more sustainable results at lower cost, developing local capacity, and generating climate positive local economic development benefits, such as improved livelihoods, reduced pollution, and access to clean energy (IIED, 2017).
ECOTRUST's TGB model has been published (Byakagaba et al, 2021) as an example of a sustainable landscape financing scheme that delivers $6 out of every $10 to the smallholders and  provides innovative ways of reducing risks and barriers that limit financial flows and the capacity to integrate trees into smallholder dominated agricultural landscape.
Our Programs Draw from Key International & National Policies
We are responsive to the National Sustainable Development Agenda such as Uganda's National Adaptation Program of Action (NAPA), the National Climate change Policy (NCCP), the National Development Plan (NDP III), Uganda's Green Growth Development Strategy; Climate Change Bill; Vision 2040, and SDGs 15, 13, 16, 7, 6, 5, 2 & 1. Our programing over the outgoing strategic period (2017-2021) has been aligned to the global and national sustainable development, biodiversity conservation and climate change agendas. 
ECOTRUST ensures optimal participation of all key stakeholders, including District Local Governments, CSOs and CBOs in all the operational districts across Uganda
ECOTRUST programing over the outgoing strategic period (2017-2021) has been aligned to the global and national sustainable development, biodiversity conservation and climate change agendas. ECOTRUST programs seek to contribute to the proposed targets and outcomes where it matters most – and influence, in whatever small way, the overall implementation for the benefit poor rural communities. Below are the key international processes and opportunities that will influence ECOTRUST programing over the next period. 
Efficient and effective program design and delivery with measurable results and sustainable impact in target communities and landscapes defines our success.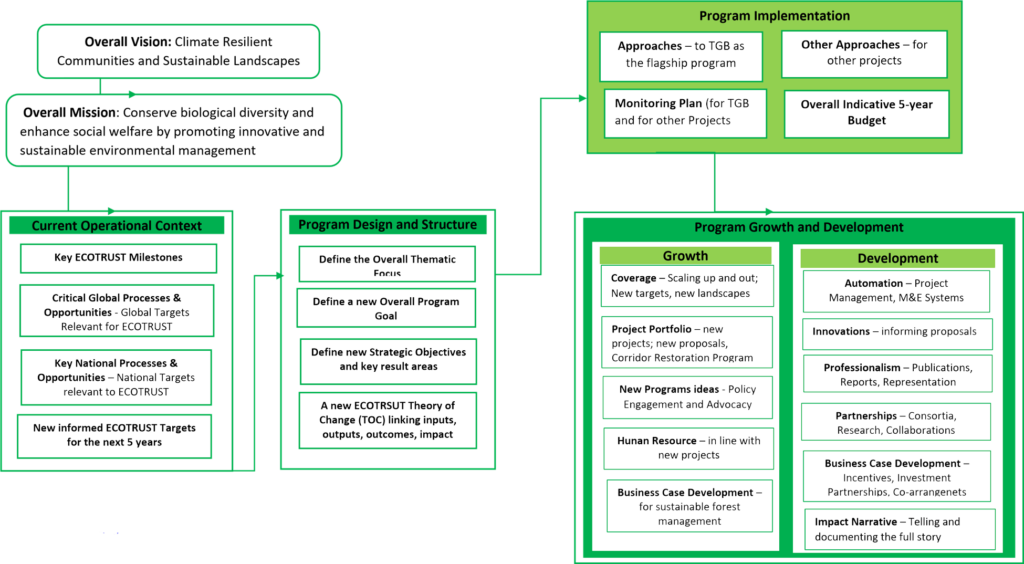 Program delivery is at the core of ECOTRUST existence. Efficient and effective program design and delivery with measurable results and sustainable impact in target communities and landscapes defines our success. The program strategy for the next 5 years (2022-2026) builds upon the achievements of the previous period (2017-2022) and the over 20 years of experience that ECOTRUST brings since inception in 1999. The program strategy defines our program aspirations and desire to succeed. It defines our focus – trimming our ambitions to match our resources – and articulating our best practices that we need to take advantage of and sustain. The new program strategy will also enable us to define some new stretch targets that will force us to compete in innovative ways and accelerate the pace organizational learning, as well as attain seemingly impossible new levels professionalism and leadership. The program strategy defines 3 main features: Program Design and Structure, Program Implementation and Management, and Program Growth and Development.
Our Strategic Objectives and Key Result Areas
Efficient and effective program design and delivery with measurable results and sustainable impact in target communities and landscapes defines our success. 
The overall investment objective under SO1 is to transform the smallholder investment horizons from short to long-term ones that are characteristic of reforestation investments. Smallholders mainly invest to meet their short-term subsistence needs and would, therefore, find the conventional longterm gestation periods of tree growing unsuitable for meeting their needs. The ECOTRUST TGB model provides a payment for environmental services (PES) based sustainability incentive that motivates smallholders to participate in tree growing as a business. Other innovative market-based incentives and rewards for environmental outcomes will also be delivered. ECOTRUST uses a blended financing model (Public, Private and Internal Revenue) to reduce its transaction and operational costs to only 4 out every 10 dollars paid by the private sector buyers. Every participating farmer is, therefore, able to receive 60% of all their carbon payments directly into their accounts.  Each farmer then contributes 10% to the Community Carbon Fund (CCF) that serves as self-insurance fund that supports the same farmers in addressing any external shocks as well as providing start-up grants for multiple forest-based enterprises for sustainable forest management. Blended finance will, thus, be used as a de-risking tool to enhance smallholder participation. The main mechanism in SO1 will be scaling out TGB. The TGB model is designed to de-risk smallholder investments to ensure long-term investments in tree growing. SO1 will support interventions that build the capacity of households, communities, and their natural capital to prevent, mitigate and cope with risk, and recover from climate induced shocks through 4 Key Result Areas: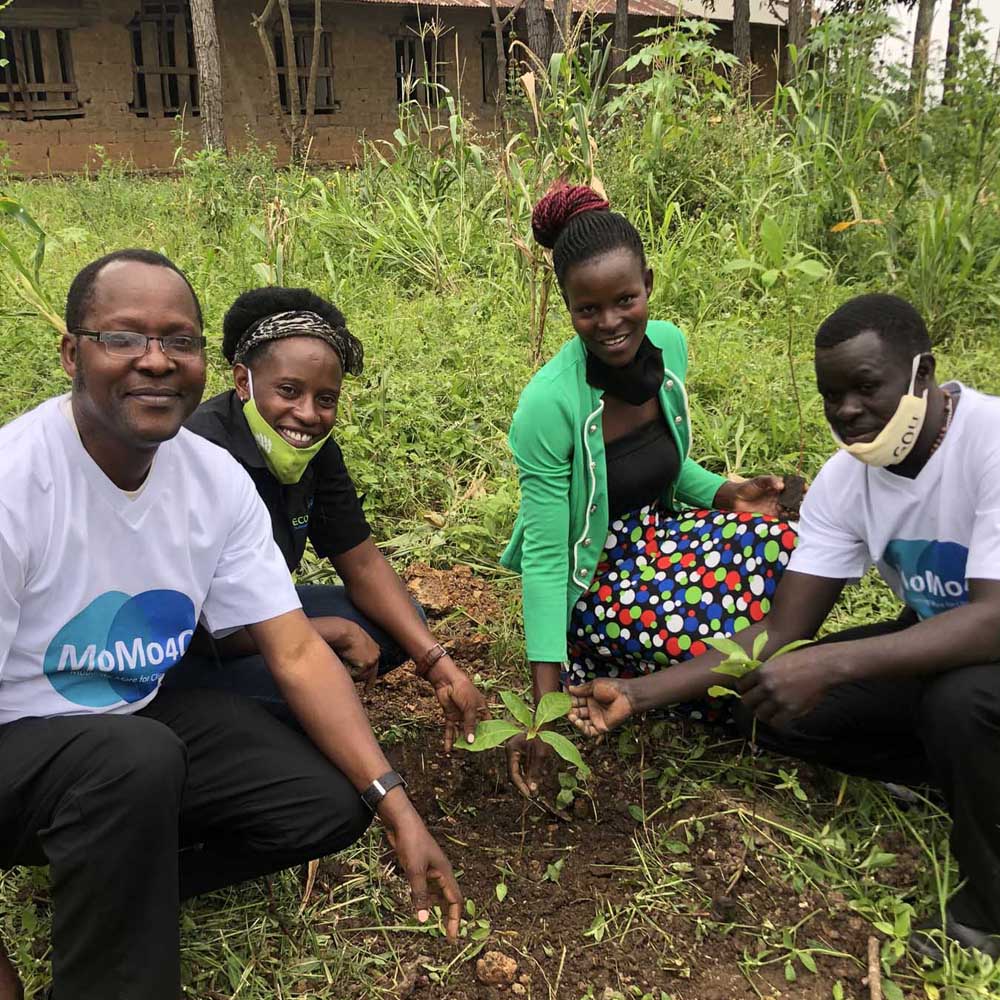 SO2 will support investment partnerships and other interventions aimed at establishing other effective area-based conservation measures (OEACMs) that can achieve effective in-situ conservation of biodiversity outside of protected areas. An 'other effective area-based conservation measure' is defined by the CBD (2018) as a geographically defined area, other than a Protected Area, which is governed and managed in ways that achieve positive and sustained long-term outcomes for the insitu conservation of biodiversity, with associated ecosystem functions and services and where applicable, cultural, spiritual, socio–economic, and other locally relevant values. Many private and communal forests in partner communities and landscapes fall into this category while others will be supported to join the category for improved forest management. OCEAM is a fairly new category in conservation in Uganda so SO2 will support policy engagement interventions towards legal, policy and institutional reform to enable the appropriate recognition of OEACMs.  SO2 will support increased coverage of ecologically representative areas of particular importance to biodiversity and ecosystem functions and services through trusteeships and investment partnerships. SO2 will also support interventions that foster engagement with a range of rights holders and stakeholders who contribute to area-based conservation outside protected areas. SO2 will support interventions that enhance connectivity between protected areas across landscapes – restoring wildlife corridors as conservation areas. SO2 will address climate change by contributing net zero policy engagement and awareness: and building resilience to the physical impacts of climate change through nature-based solutions. SO2 will also support sustainable landscapes and livelihoods through landscape-wide business cases that attack private sector investments; and multi-stakeholder investment platforms coordinating landscape-wide investment plans. Key result areas under SO2 will include:
Interventions under SO3 will enhance the flow of environmental services in support of socio-economic transformation in protected areas. SO3 contributes to Sustainable development Goal 15 that seeks to protect, restore and promote sustainable use of terrestrial ecosystems, sustainably manage forests, combat desertification, and halt and reverse land degradation and halt biodiversity loss. Without tangible benefits from conservation, communities will not value the protected areas, which is likely to result into increased risks as communities focus on the unsustainable extraction of resources for their own use. It is against this background SO3 will support organized community-based organizations to acquire equitable and inclusive resource access and benefit sharing from protected areas through nature-based solutions.  SO3 will support sustainable tourism initiatives and use eco-tourism as a tool to reduce threats to biodiversity and conserve critical ecosystems across diverse landscapes to ensure sustained economic growth. Key result areas under SO3 will include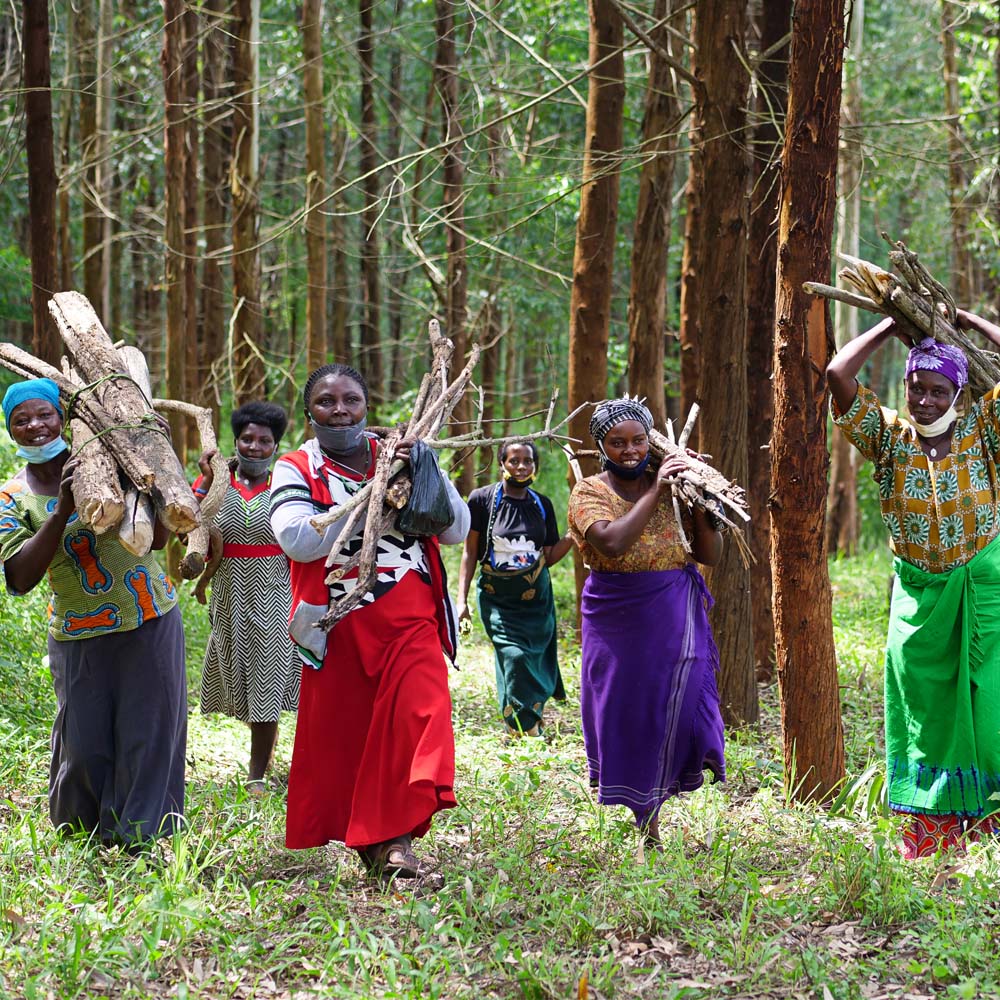 To organized community groups (CFM, CBOs, Consortia) to enable interact with and benefit from protected areas through nature-based solutions as provided by law. This will include grants to community groups responsible for OEACMs and convergencies to develop eco-businesses and eco-enterprises within Pas and OEACMs. Grants will be administered through several facilities within the ECOTRUST Green Investment Ventures (GIVES) Platform – a grant making framework
Direct engagement and professional contributions to key national and international biodiversity conservation, climate change and sustainable development policy frameworks. This will include providing expert advise to government, donor partners and other stakeholders in designing incentives schemes for conservation. This will also include undertaking join research with prominent research institutions and publishing articles and models in peer reviewed journals.
Innovative community-based monitoring programmes for tracking threats and opportunities to conservation leading to behavioral change communication programmes; Using multi-media to document and communicate relevant aspects of OEACMs as well as the evolution of policies and best practices of OACMs as protected areas; Running capacity development events and facilitating lesson sharing among diverse rights holders and stakeholders
ECOTRUST operates across Uganda with a focus on three main landscapes: Queen Elizabeth National Park landscape and Murchison-Semliki landscape in the Albertine region of South-Western Uganda, and the Mount Elgon Landscape in Eastern Uganda. These are all landscape of global biodiversity significance, but they are also hot spots for climate change induced disasters – especially floods, mud slides and changing weather patterns that result in frequent and unexpected droughts and changes in rainy seasons
Developing innovative finance for climate action using a landscape approach
Enhanced resilience of communities and wetland and associated catchment ecosystems in selected Districts of River Mpologoma Catchment