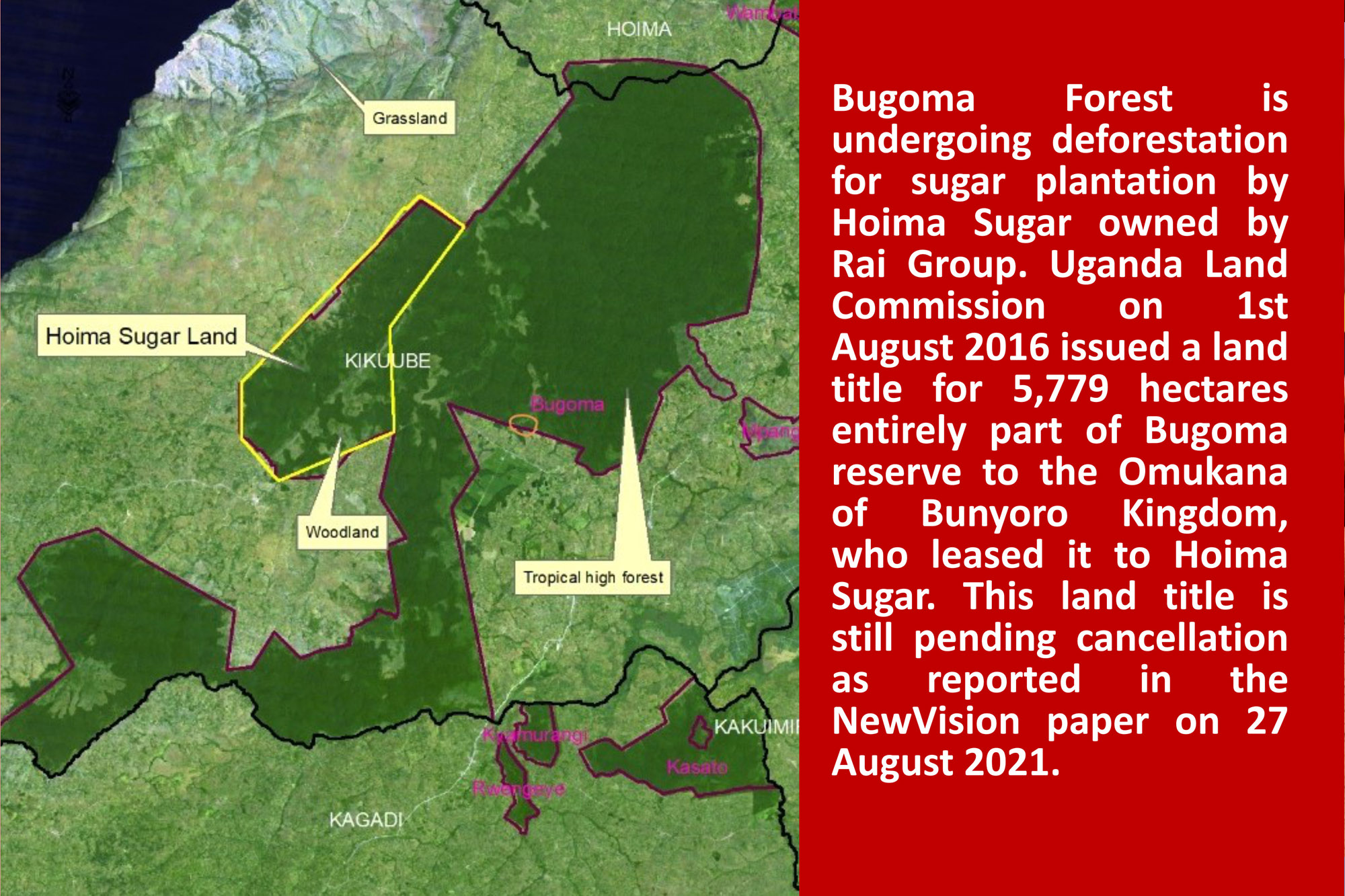 Residents and civil society groups under the Save Bugoma Forest campaign have since May 2021 been waging an uphill legal battle to protect the largest remaining block of natural tropical woodland in Uganda from destruction as part of the controversial sugarcane development project by Hoima Sugar Works.
Located 250km (155 miles) northwest of Uganda's capital, Kampala, Bugoma Forest covers more than 400sq km (154sq miles). It is home to 38 species of mammals, of which four are globally threatened and nine are listed in the International Union for Conservation of Nature's red list. Some 600 chimpanzees, classified as endangered and of global conservation concern, live in this stretch of tropical rainforest.
Since the clearing of the forest began in August 2020, vexed chimpanzees and herds of fleeing wildlife have attacked villagers in surrounding areas and raided their crops. The land earmarked for the project stretches over 56.9sq km (23sq miles) with the sugarcane plantation taking up 31sq km (12sq miles) – an area greater than 5,700 football pitches.
In a preliminary ruling in May 2021, Justice Musa Ssekaana, head of Uganda High Court's Civil Division, dismissed a lawsuit filed by three civil society groups i.e. the Africa Institute for Energy Governance (AFIEGO), Water & Environment Media Network (WEMNET) and the National Association of Professional Environmentalists (NAPE) that are part of the Save Bugoma Forest campaign, aimed at halting the clearing. In the court ruling, Ssekaana called the lawsuit an attempt to "suppress the real facts" by "exaggerating that the entire forest is being cleared for sugarcane planting".
Uganda Law Society, the bar association tasked with advising the government on matters of jurisprudence, took the matter into its hands on May 18th, 2021, when it brought the case to the Constitutional Court. No date has been set yet for the hearing.
Open-source satellite imagery shows extensive signs of deforestation within the thick canopy of Bugoma Forest beginning in September 2020, rapidly expanding in April and May 2021.
Local journalists and environmental activists requesting information from Hoima Sugar have since become targets of the Uganda People's Defence Force (UPDF), constantly being detained without any formal charges. This has however not shaken the willpower of the campaigners.
You can lend your support to the Save Bugoma Forest campaign by reaching out to the Association for the Conservation of Bugoma Forest (ACBF) via Mob/Whats app: +256 771435809 or email acbforest@gmail.com | bugomacampaign@gmail.com